Customer Reviews
This looks great over my cabinet in the bedroom with my bronze lamp with black lampshade. I originally bought it for my gym, (you'd have to see it to know what I'm talking about, not your normal gym room)but decided it looks great in my bedroom.
Beautiful piece of art by Van Gogh. Thanks to NICEARTGALLERY.COM I possess a splendid copy.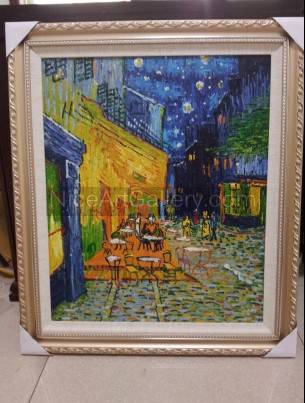 Absolutely love this painting as a centre piece in my living room.
Beautiful artwork. Its the first piece displayed in our entryway and we've received a ton of compliments on it.
I was looking for a piece for my office over the return of my desk. It may not be the place others look the most, but it where I do. The wall behind my desk is covered with stodgy diplomas. I wanted something inspiring, something that reflect a different side of me. Not a mass produced "thingy"
I needed to fill a space on the wall in the new office space I now "reside" in... This was perfect! The compliments are never-ending.
I hung this over my bed. It's a beautiful and peaceful addition to my bedroom.
It looks great, perfect for my family room wall.
The painting arrived and it is beautiful. Our newborn baby will love it.